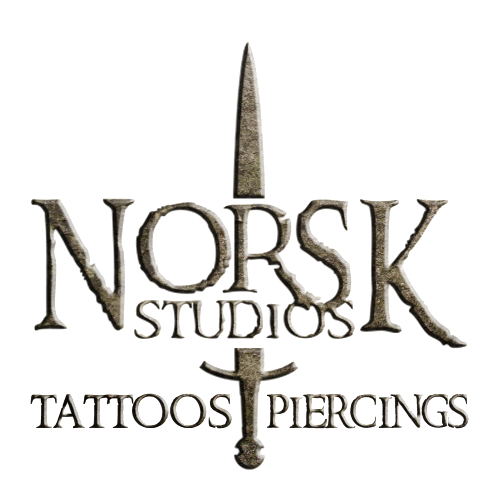 WELCOME!
We're not your typical "turn-and-burn-em" studio. We're not okay with mediocre work, and even less okay with mediocre service. Norsk Studios is family-owned and operated, and we've put great care into fine tuning our shop as a one of a kind experience for you. Each tattoo is an endeavor towards perfection, and we strive to give you our best each and every time so that you will be as proud of your personal work of art, as we are to have created it. 
Our clients are more than just customers… COME JOIN THE FAMILY!
TATTOO HOURS
MON – SAT: 12pm – 9pm
SUN: 12pm – 6pm
678 745-3463
4060 Buford Drive Suite H
Buford, GA 30518
678 745-3463
4060 Buford Drive Suite H
Buford, GA 30518
TATTOO HOURS
MON – SAT: 12pm – 9pm
SUN: 12pm – 6pm
PIERCING HOURS
MON: 12pm – 6pm
TUES – SAT: 12pm – 9pm
PIERCING HOURS
MON: 12pm – 6pm
TUES – SAT: 12pm – 9pm
Well-Versed & Unique
Our artists accumulate over 25 years of experience in the industry, and specialize in fully custom work of all styles. What does this mean for you? It means that no matter what you're looking for, we have the perfect, dedicated artist to bring it to life!
Sterile & Precise
All of our piercings are done as walk-ins, so no appointment is necessary! (However, it is suggested that for micro-dermals and nipples, you call ahead so that we may best accommodate you.) All piercings we perform include jewelry, and are performed with sterilized 316L surgical steel jewelry for optimal healing.
Meet the Crew
Corey Sullivan

COREY SULLIVAN retired from an illustrious career on the professional Rock-Em Sock-Em Robots circuit, and, looking to fill his free time, opened up the legendary Norsk Studios. And the rest… is history.

Courtney Sullivan

COURTNEY SULLIVAN arrived in a package one day after a mixup with the post office. There was no return address, and from her wily hair and hungry eyes, it was clear she had been raised in the wild. Naturally, Corey married her.

TYLER "T CUP" HOWARD

It's strongly rumored that TYLER "T CUP" HOWARD is the illegitimate love child of Ron Swanson and the Tasmanian Devil, but we're no TMZ, and with a face this cute, we just couldn't bare to ask.

AMBER MURPHY

AMBER MURPHY, at least we think that's her name, used to work for ——-, and now she doesn't. That's all the government will allow us to say about that. But whatever she did, her skill set has rolled over to make her a badass piercer! Hmm..

JAMIE "BETTY" HARRIS

JAMIE "BETTY" HARRIS is an award-winning biscuit baker, and was host of "Betty's Biscuits" on food network, but we think she's lost her mind… She wandered in one day asking to borrow some flour, and just never left.

ADAM BARNES

You'll recognize ADAM BARNES from his role as stunt double in "Pirates of the Caribbean," and we're honored to have him method acting at Norsk in preparation for his first leading role in the upcoming "Tattooer of Seville."

RHIANNON EDWARDS

After a 13 year stint as a professional drag racer on the NHRA circuit, RHIANNON EDWARDS retired, and she found a new calling in raising cats and tattooing… cats mostly, but she'll tattoo other things if you ask nicely.
Testimonials
I Just Got My First Tattoo!

"I couldn't be happier! It's exactly what I wanted and Corey did an AMAZING job. Everyone there was super nice and I loved seeing how helpful the staff was to everyone that came in. I will definitely be back for my next tattoo."

Corey Does Amazing Work!

"Outstanding place! Clean, friendly, and professional! Corey does amazing work! The detail on the tattoo that he did in me was in short – AMAZING!!! Would highly recommend going to check them out you won't be disappointed!"

Best First Time Experience

"The best first-time experience one could ever ask for! Corey made me feel comfortable and designed a tattoo that was absolutely beautiful. There is amazing talent here. Everyone is fun, welcoming and professional."

Only Shop I Go To

"The only shop I go to. Keep up the awesome work Corey Sullivan."

They're going to be big one day!

"So many shops try to take advantage of people like me and overcharge them. Not Norsk Studios. I feel like I should have been paying at least 3 times more not only because of the detail, but also the incredible service I had while I was there."

Corey and Courtney are great

"Best experience for my first Tattoo! Corey and Courtney are great at what they do! I will be back for more!"

Amazing Work!

"Amazing work and great place all around. Corey was fantastic."
Click to Leave a Review of Your Own!
Contact Us
Give Us a Call!
(678) 745-3463
Come By!
4060 Buford Drive Suite H
Buford, GA 30518
Shoot Us a Message!