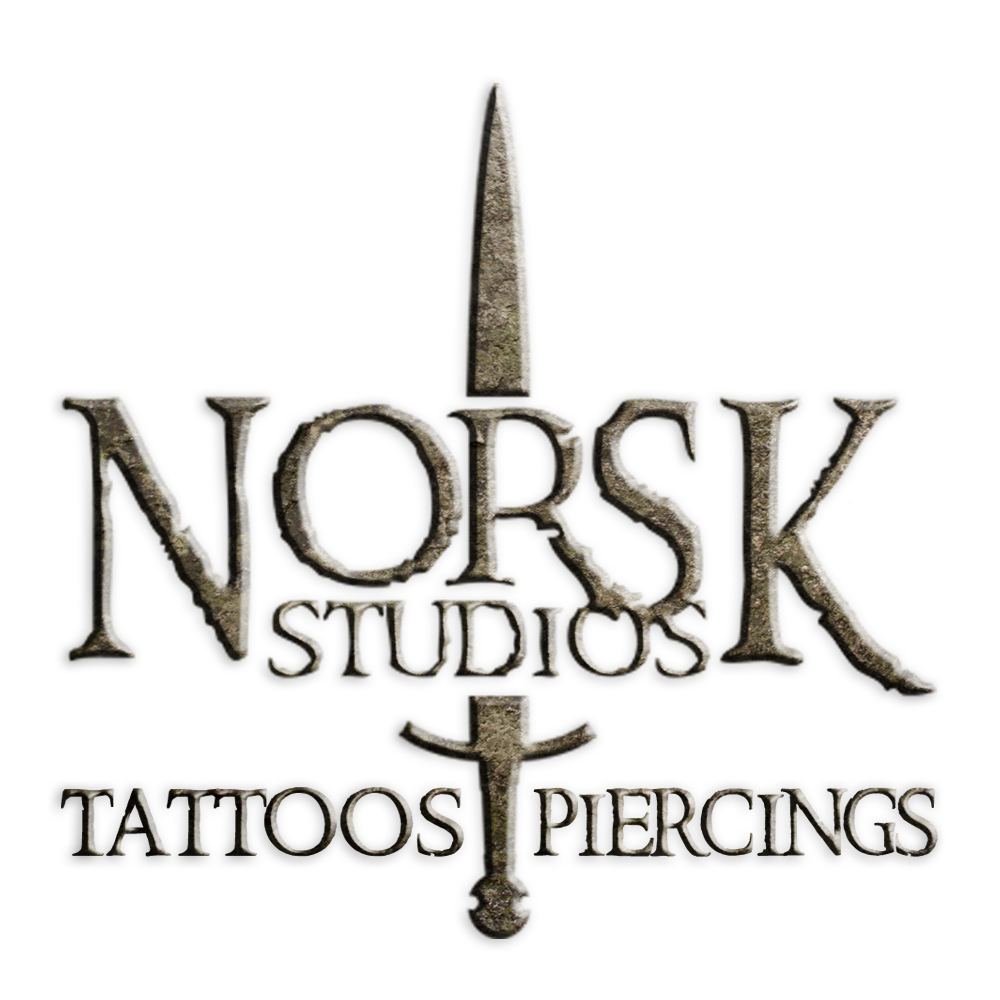 Voted 2015 BEST TATTOO SHOP
Voted 2015 BEST TATTOO ARTIST
WELCOME!
We're not your typical "turn-and-burn-em" studio. We're not okay with mediocre work, and even less okay with mediocre service. Norsk Studios is family-owned and operated, and we've put great care into fine tuning our shop as a one of a kind experience for you. Each tattoo is an endeavor towards perfection, and we strive to give you our best each and every time so that you will be as proud of your personal work of art, as we are to have created it. 
Our clients are more than just customers… COME JOIN THE FAMILY!
TATTOO HOURS
MON-SAT: 12pm – 9pm
SUN: BY APPOINTMENT
678 745-3463
4060 Buford Drive Suite H
Buford, GA 30518
678 745-3463
4060 Buford Drive Suite H
Buford, GA 30518
TATTOO HOURS
MON-SAT: 12pm – 9pm
SUN: BY APPOINTMENT
PIERCING HOURS
TUES-SAT: 12pm – 9pm
SUN/MON:  NOT AVAILABLE
PIERCING HOURS
TUES-SAT: 12pm – 9pm
SUN/MON:  NOT AVAILABLE
Well-Versed & Unique
Our artists accumulate over 25 years of experience in the industry, and specialize in fully custom work of all styles. What does this mean for you? It means that no matter what you're looking for, we have the perfect, dedicated artist to bring it to life!
Sterile & Precise
All of our piercings are done as walk-ins, so no appointment is necessary! (However, it is suggested that for micro-dermals and nipples, you call ahead so that we may best accommodate you.) All piercings we perform include jewelry, and are performed with sterilized 316L surgical steel jewelry for optimal healing.
Meet the Crew
COREY SULLIVAN retired from an illustrious career on the professional Rock-Em Sock-Em Robots circuit, and, looking to fill his free time, opened up the legendary Norsk Studios. And the rest… is history.

COURTNEY SULLIVAN arrived in a package one day after a mixup with the post office. There was no return address, and from her wily hair and hungry eyes, it was clear she had been raised in the wild. Naturally, Corey married her.

DYLAN TRUDEAU is known for attempting to piggy-back his cousin Mario's fame as the lesser known, more pint-sized plumber "Dario," but when Netflix didn't pickup his original series, he had to resort to dice gambling and tattooing here at Norsk!

BEAU JONES has a rare medical condition where his beard hair is tougher than titanium, making shaving impossible. Many broken razor blades later, his wily look has made him perfect for the tattoo industry.

It's strongly rumored that T CUP is the illegitimate love child of Ron Swanson and the Tasmanian Devil, but we're no TMZ, and with a face this cute, we just couldn't bare to ask.

Christie Jones is a bad mama-jama. She's been known to circle dirt tracks in wedding dresses, and even tamed a wild wooleybooger and named it Beau, whom she brings with her everywhere.
Testimonials
"I couldn't be happier! It's exactly what I wanted and Corey did an AMAZING job. Everyone there was super nice and I loved seeing how helpful the staff was to everyone that came in. I will definitely be back for my next tattoo."

"Outstanding place! Clean, friendly, and professional! Corey does amazing work! The detail on the tattoo that he did in me was in short – AMAZING!!! Would highly recommend going to check them out you won't be disappointed!"

"The best first-time experience one could ever ask for! Corey made me feel comfortable and designed a tattoo that was absolutely beautiful. There is amazing talent here. Everyone is fun, welcoming and professional."

"The only shop I go to. Keep up the awesome work Corey Sullivan."

"So many shops try to take advantage of people like me and overcharge them. Not Norsk Studios. I feel like I should have been paying at least 3 times more not only because of the detail, but also the incredible service I had while I was there."

"Best experience for my first Tattoo! Corey and Courtney are great at what they do! I will be back for more!"

"Amazing work and great place all around. Corey was fantastic."
Click to Leave a Review of Your Own!
Contact Us
Give Us a Call!
(678) 745-3463
Shoot Us a Message!
4060 Buford Drive Suite H
Buford, GA 30518
From I-985: Off on EXIT 4
I-985 North: Turn LEFT
I-985 South: Turn RIGHT
From I-85: Off on EXIT 115
I-85 North: Turn LEFT
I-85 South: Turn RIGHT
Make a U-TURN at first red-light
(Satellite Blvd.)
Shop is immediately on your right.
Horizon Plaza Shopping Center